LEAF BLAST
---
Blast is one of the most destructive diseases of rice that is found in both upland and lowland environments. It is caused by the fungus Magnaporthe oryzae. Water scarcity with high night humidity and low night temperature favors the development of this disease. The fungus is both airborne and seed-borne. It can infect and produce lesions on most of the shoot including the leaves, leaf collar, stem, nodes, panicle and grains, but not the leaf sheath.
BACTERIAL LEAF BLIGHT
---
Bacterial blight (BLB) is caused by Xanthomonas oryzae pv. Oryzae, resulting in the reduction in photosynthetic area, reduction in 1000 grain weight, empty grains, and 20-50% reported yield loss. The disease is most likely to develop in irrigated and rainfed lowland areas that have weeds and stubbles of infected plants.
RATS
---
Rats can cause serious damage to rice and losses of 5% to 60%, or even 100% at seedbed. They are destructive in all stages of rice growth, reaching its peak at grain maturity stage. Rats are also storage pests which feed on and contaminate stored produce. They are difficult to manage because they reproduce rapidly in high numbers and their life span is long.
BROWN PLANTHOPPER
---
Brown plant hoppers (BPH), can be a problem in rainfed and in irrigated wetland environments. Adults and nymphs cause direct damage by sucking the sap at the base of the tillers causing plants to turn yellow and dry up rapidly. Heavy infestation creates brown patches of dried plants known as hopperburn. They also transmit viral diseases such as ragged stunt and grassy stunt.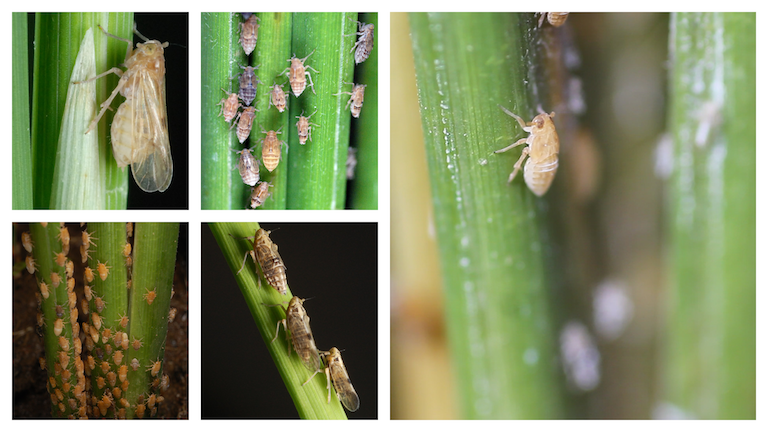 TUNGRO & GREEN LEAF HOPPER
---
Tungro is one of the most damaging and destructive diseases of rice in the Philippines. It is a viral disease caused by two different viruses: the rice tungro bacilliform virus (RTBV) and the rice tungro spherical virus (RTSV). Green leafhoppers (GLH) transmit these viruses from infected plants to healthy plants. It causes leaf discoloration, stunted growth, reduced tiller numbers and sterile or partly filled grains. In severe cases, tungro susceptible varieties infected at an early growth stage could have as high as 100% yield loss.